By: Ivan Kurt Monasterial
The University of the Philippines through the Office of International Linkages, together with the Central Luzon State University (CLSU), co-facilitated the 5th Workshop of the ANTENA Training of Trainors Replication Workshop last November 17, 2022.

Dr. Noel Christian A. Moratilla, UP OIL Deputy Director, Mr. Guillian Mecate, Head of
Programs and Strategy, and Mr. Ivan Monasterial, Hosting and WELS Program Associate facilitated the workshop alongside Dr. Emil Ubaldo and Mr. Jerome Garcia of CLSU.

The workshop is envisioned to serve as a detailed guide for the Philippine higher education institutions in their respective internationalization journeys. The pedagogical material, support document, and bibliography are accessible on the ANTENA website.

The first part of the workshop focused on how the Philippine Higher Education Institution International Relations Offices (IRO) can set their service in line with their strategic plan and international objectives. The objective of the replication workshops is to study how IRO services can be more efficient with what the institution wishes to achieve, e.g. more mobility, and more external contacts.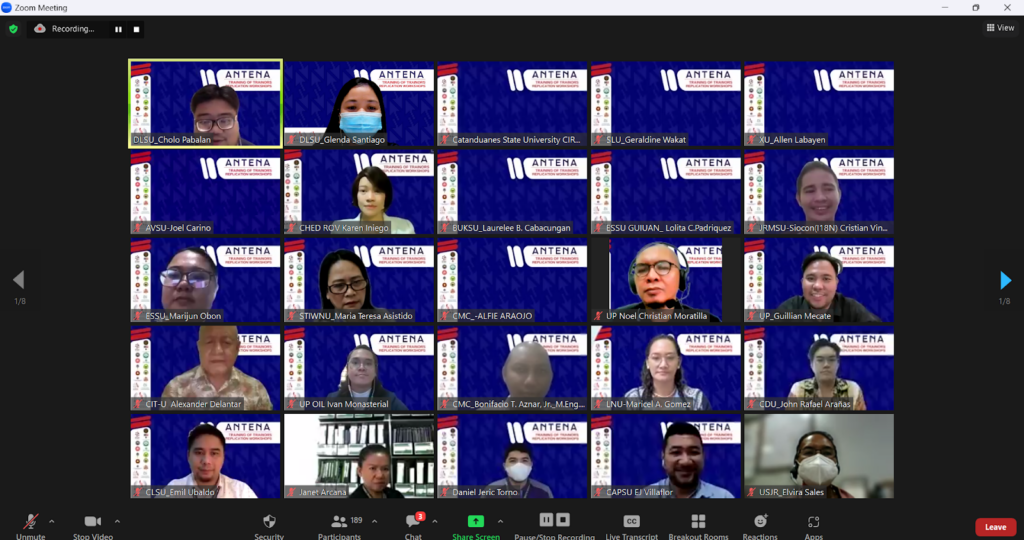 UP OIL and CLSU are represented by Dr. Noel Christian Moratilla, Mr. Guillian Mecate, Mr. Ivan Monasterial, Dr. Emil Ubaldo, and Mr. Jerome Garcia.
The session also focused on IRO structure and activities as well as IRO services and initiatives on Internationalization at Home and how these can be harnessed effectively to enhance HEI's international outlook.