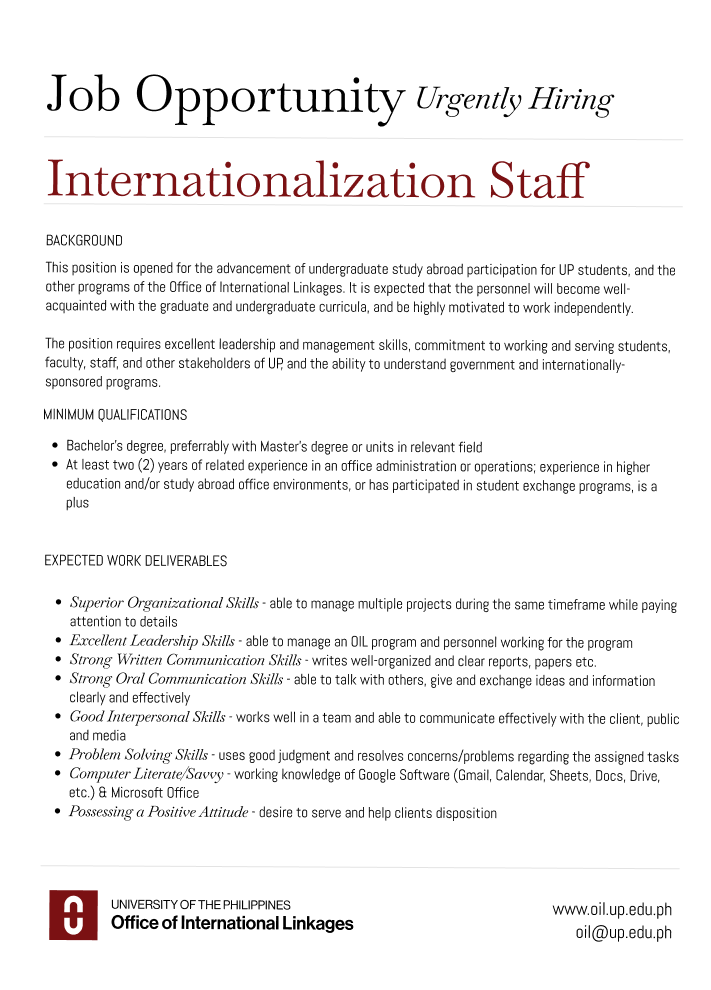 This position is opened for the advancement of undergraduate study abroad participation for UP students, and the other programs of the Office of International Linkages. It is expected that the personnel will become well-acquainted with the graduate and undergraduate curricula, and be highly motivated to work independently.

The position requires excellent leadership and management skills, commitment to working and serving students, faculty, staff, and other stakeholders of UP, and the ability to understand government and internationally-sponsored programs.
MINIMUM QUALIFICATIONS
Bachelor's degree, preferably with Master's degree or units in relevant field
At least two (2) years of related experience in an office administration or operations; experience in higher education and/or study abroad office environments, or has participated in student exchange programs, is a plus
EXPECTED WORK DELIVERABLES
Superior Organizational Skills – able to manage multiple projects during the same timeframe while paying attention to details
Excellent Leadership Skills – able to manage an OIL program and personnel working for the program
Strong Written Communication Skills – writes well-organized and clear reports, papers etc.
Strong Oral Communication Skills – able to talk with others, give and exchange ideas and information clearly and effectively
Good Interpersonal Skills – works well in a team and able to communicate effectively with the client, public and media
Problem Solving Skills – uses good judgment and resolves concerns/problems regarding the assigned tasks
Computer Literate/Savvy – working knowledge of Google Software (Gmail, Calendar, Sheets, Docs, Drive, etc.) & Microsoft Office
Possessing a Positive Attitude – desire to serve and help clients disposition
COMPENSATION AND NUMBER OF POSITIONS
| | | | |
| --- | --- | --- | --- |
| Title | Compensation | Position | Status |
| Senior Project Assistant | Php 33,306.00 / month | 1 | COS |
| Junior Office Assistant | Php 23,079.60 / month | 1 | COS |

Interested applicants may submit their letter of application, resume, transcript of records, certificate of employment, certificate of training/s and other documents to the Director of OIL.
SUBMIT THE REQUIREMENTS TO:
Imee Su Martinez, Ph.D.
Assistant Vice President for Academic Affairs
Director, Office of International Linkages
through email at [email protected]

DEADLINE OF APPLICATIONS
Thursday, 30 June 2022
Late submission shall not be accepted. Interviews will be held online.

CONTACT DETAILS
For any inquiries, please send an email to [email protected].