by Ivan Monasterial
The ASEAN International Mobility for Students (AIMS) program has consistently stood as a beacon of international collaboration, fostering educational experiences that transcend borders. As we step into the academic year 2023/2024, AIMS is gearing up to unveil its highly anticipated Regional Orientation—an event that promises to set the stage for an enriching and culturally diverse semester ahead.
At the heart of the AIMS Regional Orientation lies the commitment to empower students with knowledge and connections that will enrich their AIMS experience. Participants can expect a blend of interactive sessions, cultural insights, and practical guidance, all geared towards setting them up for academic and personal success during their exchange journey.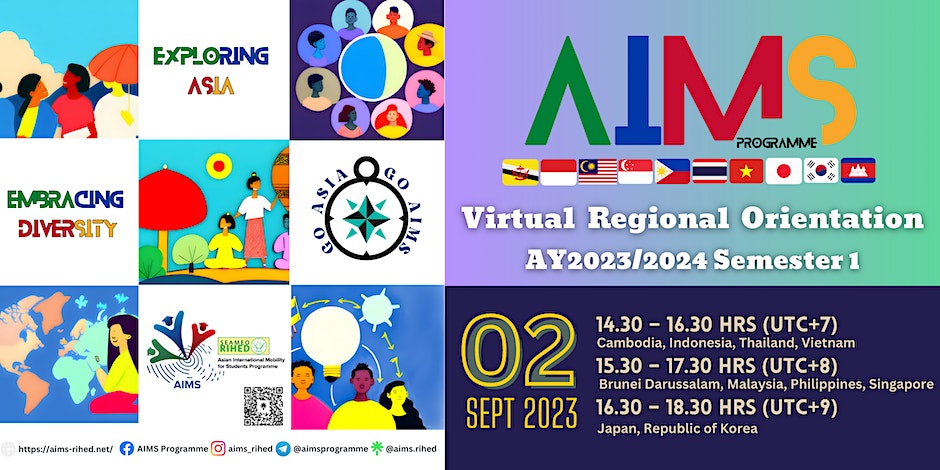 Registration for the event is both simple and free, ensuring that every AIMS student has the chance to partake in this enriching experience. The event aims to foster connections that last far beyond the virtual confines, empowering students to make the most of their international academic endeavors.
As AIMS continues to champion unity and global learning, the Regional Orientation stands as a testament to the program's commitment to nurturing well-rounded individuals who can thrive in an interconnected world. The event is a pivotal opportunity to embark on a journey that not only broadens academic horizons but also forges friendships and cultural bonds that have the potential to last a lifetime. As participants from diverse backgrounds come together virtually, they will be setting a precedent for a future characterized by collaboration, mutual understanding, and unity.
Register at bit.ly/AIMS_RO2023