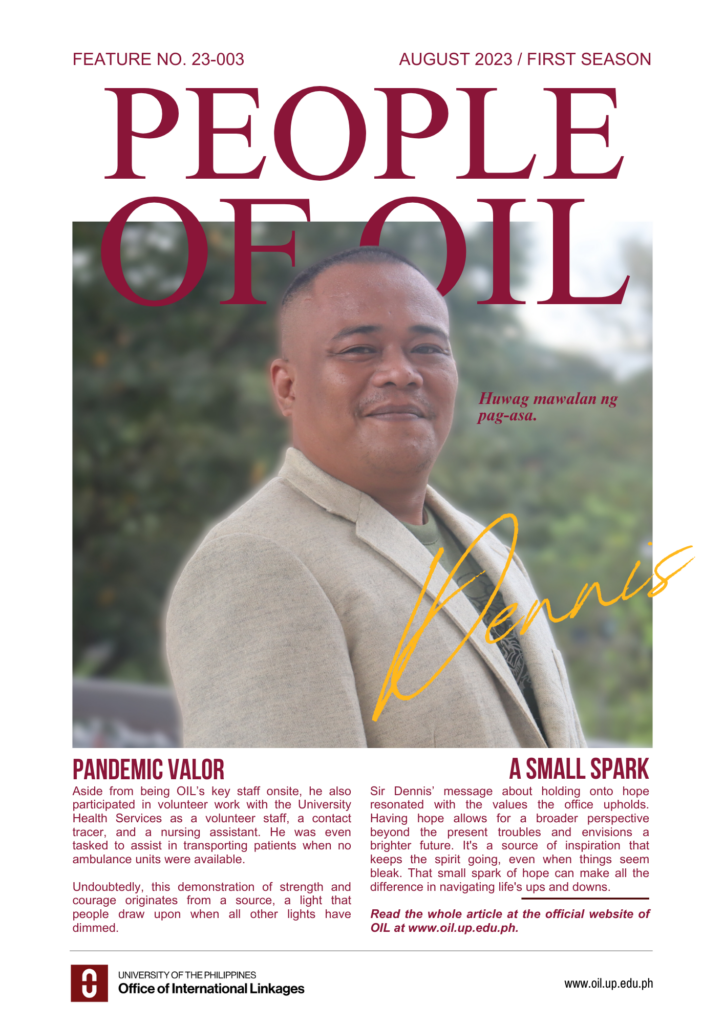 By Ivan Kurt M. Monasterial
Sir Denz, Kuya Dong, Dodonghae Corporation. These are some of the endearing nicknames the staff use to address Mr. Dennis T. Bugnalen both as a colleague, as a friend, and as the Office of International Linkages' (OIL) Administrative Aide.
His responsibilities involve transporting both outgoing and incoming documents between our office and other offices. Sir Dennis also serves as our document control center, providing guidance on whether our documents are complete or are in need of additional supporting paperwork. He possesses expertise in all types of documents and their necessary attachments, informing us if our paperwork is ready for sending.
Because of these, the office was very fortunate when the world fell on difficult times during the beginning of the pandemic lockdown last March 2020. During this period, physical reporting was prohibited and heavily discouraged, which proved to be a challenge since financial transactions of the OIL-administered grants as well as payroll needed to be settled onsite. Sir Denis wholeheartedly took the responsibility and the risk of being the one to physically report as the office's primary staff in its skeletal workforce arrangement.
Aside from being OIL's key staff onsite, he also participated in volunteer work with the University Health Services as a volunteer staff, a contact tracer, and a nursing assistant. He was even tasked to assist in transporting patients when no ambulance units were available.

"Minsan naiisip ko, pag ako nahawa sigurado mawawala ako. Nakakatakot. Aminado ako, pero pinilit kong maging matapang para makatulong sa UP Community."
"Occasionally, when considering it, the idea of getting infected terrifies me. Still, I push forward, aiming to be courageous for the UP Community"
Undoubtedly, this demonstration of strength and courage originates from a source, a light that people draw upon when all other lights have dimmed. The pandemic presented immense difficulties for all of us, with profound losses and challenges during this period. We asked Sir Dennis what kept him going amidst difficult periods in his life and he responded with a few simple words:

"Ang aking anak."
"My son."
The simplicity of his response was a beautiful homage to parenthood and familial ties as Filipino values we Filipinos could relate to. His son was enough to keep him going through difficult times.
As the interview came to a close, Sir Dennis shared some valuable wisdom with the future POOF readers that he thought was worth passing along. The advice was very profound: "Always keep hope alive" or, as he put it in his native tongue, "Huwag mawawalan ng pag-asa."
Life, as we all know, can be full of surprises and uncertainties. It throws challenges in life and sometimes makes it hard to see the light at the end of the tunnel. But Sir Dennis reminded the readers that tough times are temporary. Just like how difficulties come, they eventually go, and comfort and solace will find their way back.

Sir Dennis' message about holding onto hope resonated with the values the office upholds. Having hope allows for a broader perspective beyond the present troubles and envisions a brighter future. It is a source of inspiration that keeps the spirit going, even when things seem bleak. That small spark of hope can make all the difference in navigating life's ups and downs.