By: Patrick Owen Tuaño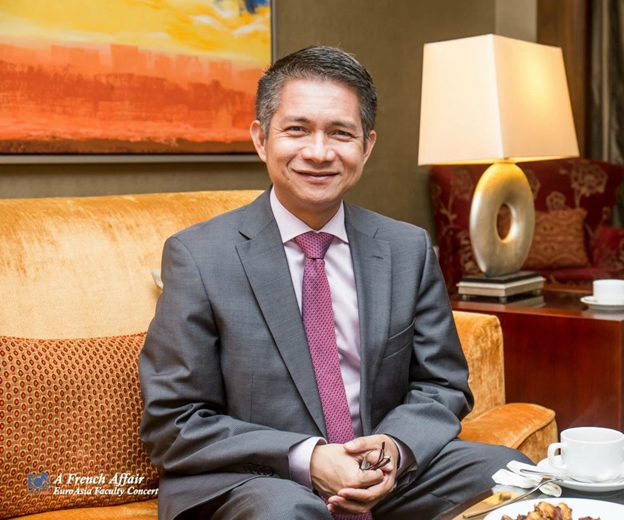 Ambassador Eduardo J. Malaya in the EuroAsia Faculty Concert
As the Philippine ambassador to the Hague, Eduardo J. Malaya is a man with a prolific background. With over three decades in public service, Ambassador Malaya is no stranger to diplomacy and international relations.
Ambassador Malaya was born in the City of Iriga in Bicol with a set of parents, both of whom were public servants. His father was a city prosecutor who eventually became a regional trial judge, while his mother was a public-school educator who retired as a DepEd Schools Division Superintendent. Considering the background of his parents, Ambassador Malaya's inclination for public service seems to be hardwired in his DNA.
This inclination for public service led to his path of taking higher education at the University of the Philippines. Initially taking an undergraduate degree in Economics, Ambassador Malaya eventually pursued a law degree in UP Diliman College of Law.
During his eight years in the university, his biggest takeaway from the entire experience was UP's culture of idealism and excellence. Alongside that, the university's continuous effort to instill the imperative to serve the people "magsilbi sa bayan" solidified Malaya's yearning to contribute to society through public service.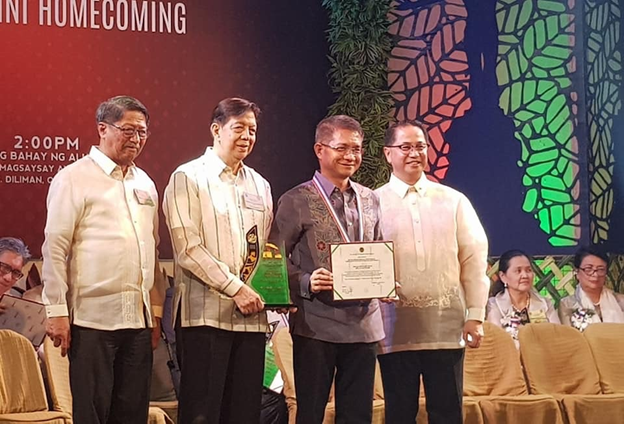 2018 University of the Philippines Alumni Association Distinguished Alumnus Awardee in Public Service and Good Governance (Diplomacy)
Prior to his current role of being the Ambassador of the Philippines to the Netherlands, Ambassador Malaya's all-encompassing resume as a public servant includes fulfilling the role of Assistant Secretary of Policy Planning at Department of Foreign Affairs (2007 – 2009), Foreign Affairs Spokesperson & Assistant Secretary of Legal Affairs (2009 – 2011), Philippine Ambassador to Malaysia (2011 – 2017), Assistant Secretary for Treaties and Legal Affairs (2017 – 2019), and Undersecretary of Foreign Affairs (2019 – 2021).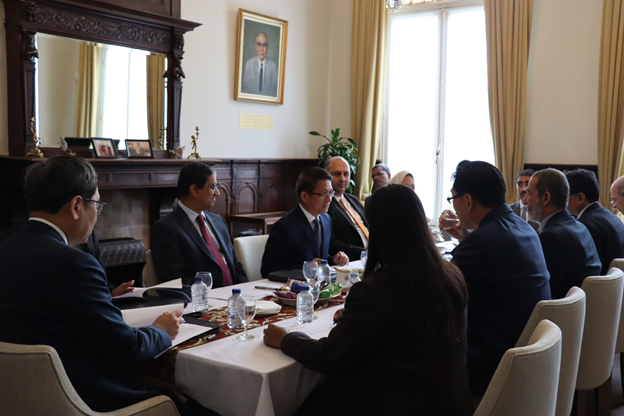 Presiding at a meeting of the Asian Ambassadors at the Embassy's ICJ Judge Cesar Bengzon Hall
Aside from his extensive resume as a public servant, Ambassador Malaya is also a published writer. He is the author of nine books on diplomacy, history, international law, and treaties.
Despite his busy schedule, Ambassador Malaya has provided us the opportunity to interview him regarding his work as an ambassador, as well as his general thought process as a published writer.
You have a very fascinating career as an ambassador to the Hague in the Netherlands. Could you tell us about your duties as an ambassador?
The job of an ambassador can be compared with that of a district sales manager for a consumer products company, where one is in charge of and is accountable for the sales targets for a certain area. We also have targets and objectives, but we serve at a higher level because we represent our country and our people in a foreign land, and we also deal with their government and people.
Filipino diplomats' work is guided by the so-called "Three Pillars of Philippine Foreign Policy" – enhancing political-security relations with the host government, promoting economic engagements between the business sectors of the home country and the host country, and overseeing the welfare of Filipino nationals in the host country.
What I find fascinating in my work is that The Hague is considered the "legal capital of the world", as what it was referred to by UN Secretary General Boutros Boutros-Ghali. It is the headquarters of the International Court of Justice, Permanent Court of Arbitration, International Criminal Court, and the Hague Conference on Private International Law, among others. As such, it is where the newer thinking and best practices in international law and international legal cooperation are often developed. My team and I at the Embassy have taken upon ourselves to spot those better thinking and best practices which are suitable and adaptable to the Philippines.
For instance, we recently acceded to the HCCH Child Support Convention to facilitate the collection of maintenance from neglectful parents residing overseas. We hope that accession to the HCCH Evidence Convention can follow, as it will facilitate the collection of evidence available in a foreign country – a procedure which can be a game-changer for the practice of law in our country. The opportunity to make contributions in concrete ways is often rare and thus a great motivator for action.
As one would notice, an ambassador has much leeway in designing his work program. It can be boring if one would only follow the usual rule book. It can also be as creative as ones' imagination would go.
We heard that the embassy in the Netherlands is freshly renovated. Could you tell us a bit of information with regards to your vision in renovating the embassy?
The Philippine government acquired the property at 125 Laan Copes de Cattenburch in 1968, and there has been no renovation since then in this now 151-year-old heritage building. When we were able to secure the funding for its renovation, we resolved that the renovated building would not only be functionally updated, but also hopefully elegant and reflective of the best aspects of our Philippine identity and culture.
We also made sure that we re-laid out the halls and rooms such that the ground floor would have a sizeable reception hall where we can hold meetings, conferences, host art & trade exhibits and musical performances. In this manner, we can have in-house events and be spared the expense of hosting them in hotels. An Embassy is often the first point of contact of foreigners with our country; we need it to be a worthy showcase for our country and people.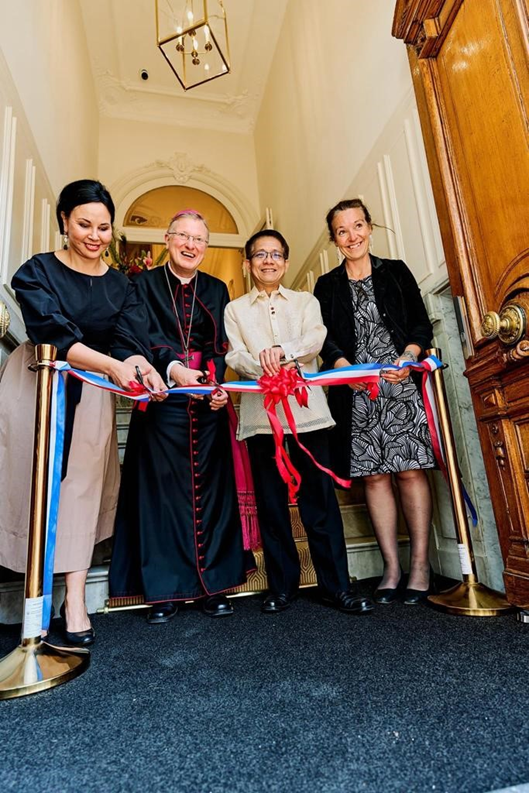 Inauguration of the newly-renovated Embassy Chancery on 7 June 2022
We heard that you have written a grand total of nine books. How did you get started in writing and eventually publishing a book?
Most of these books are on subjects which I have dealt with at work, notably those on diplomacy and international law. As a diplomat-lawyer, I have sat in meetings or was involved in diplomatic negotiations. It has been a habit for me to prepare for negotiations, and that means reading up and devoting time for them. After the meeting or negotiations, I try to recollect on what I have learned, including valuable lessons learned. I come at times to the realization that I have learned quite a bit, and why not put them into writing before the frailty of memory creeps in. In that way, the knowledge is more shareable. That is how "Enhancing International Legal Cooperation: Extradition, Mutual Legal Assistance, Transfer of Sentenced Persons" (U.P. Law Center, 2019) came into being.
There was a time when I was apprehensive to publish a book as it dealt with a sensitive matter. Then I saw Danny Concepcion, U.P. Law Dean at that time, and asked his advice. He said, "Go ahead. Have it published. If anybody has interpretations contrary to yours, then perhaps they can also write a book." He may have said it in jest, but otherwise, the advice was valuable as we should put a premium on the free market of ideas. That is the backstory behind "Forging Partnership: Defense Cooperation under Constitutional and International Laws" (U.P. Law Center, 2016), which came out after my involvement in the negotiations of what is now the PH-US Enhanced Defense Cooperation Agreement.
Do you mind sharing some insider information about your creative process in writing those books? Do you happen to have a favorite one among those that you have written?
Books are like one's children. It's difficult to play favorites. Let me though mention the first and the most recent ones. When I wrote in 2004 the book on the inaugural addresses of Philippine presidents, starting with Aguinaldo, titled "Stewards of the Nation" (Anvil Publishing), I had no experience in writing a long article nor a book other than the usual college thesis. But a four-year secondment to Malacañan under President Fidel V. Ramos inspired me to try and put together the inaugural addresses and to document the inaugural traditions. I thought that recalling the original visions of our presidents when they took office would help remind them what they promised to deliver when they entered office, even as they faced the day-to-day challenges of governance during their term.
The last book deals with the treaties that our country has been entered into since 1946 and have remained subsisting – which now totals to approximately 3,367. Until recently, we didn't have a comprehensive index to these agreements, and as the then head of the DFA Treaties and Legal Affairs Office, I thought that we should do it as we were also maintaining the DFA treaties archives. To ensure that what we come up with a reliable index, I sought out the assistance of Professor Rommel Casis, who made available a team of U.P. Law Center researchers to help cross-check and validate the entries of the now "Philippine Treaties In Force 2020".
As an international ambassador with over three decades of experience, what do you think are some of the best diplomatic strategies that our country can implement given the current international climate?
Diplomacy is an art of the possible. A diplomatic practitioner who has faith in his craft should remain guardedly optimistic at the possibility of addressing and resolving issues through dialogue, mutual accommodation, and trust. To ensure that any resolution arrived at is a fair and durable one, it is most advisable to anchor it on international law. I am a firm believer in good-faith negotiations, and if an issue can't be resolved through negotiations, and so as not to allow it to fester and mar relations, then perhaps a recourse to arbitration or judicial settlement can be explored. I consider myself fortunate to be assigned in The Hague as it is where the leading arbitral and judicial tribunals are based.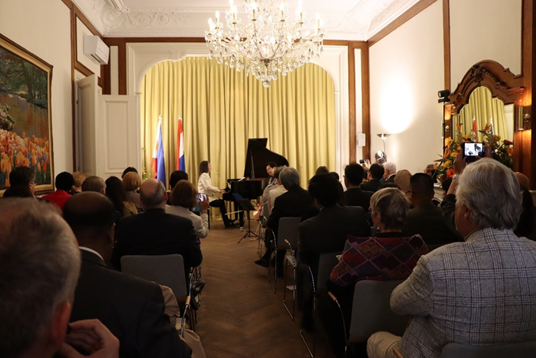 Special Independence Day Piano Recital on 2 June 2022 at the Embassy's Kalayaan Hall
Considering that Philippine higher education institutions are now trying to collaborate internationally, could you provide some information on the role of international embassies regarding this matter?
Embassies can play a key role in fostering collaboration between educational institutions in the host country and the home country. A few weeks ago, Agriculture Senior Undersecretary Domingo Panganiban and I visited the Wageningen University and met Filipino professors and students pursuing graduate studies in agriculture and related fields as we would like to ramp up collaboration between the said university, which is one of the world's top-rated agriculture schools, the University of the Philippines Los Baños, and the Department of Agriculture.
The Netherlands also has a lot of expertise in reclamation and water management, maritime studies, and the law of the sea. We are initiating efforts to link them with counterpart entities in the Philippines. We have also requested the Hague Academy of International Law to conduct their external training program in the Philippines in 2024 or 2025. When this is realized, their lecturers, who are among the most eminent authorities in international law, can conduct master classes for our young scholars and teachers of international law. The latter can learn from and engage with the best in the world without needing to go overseas for it.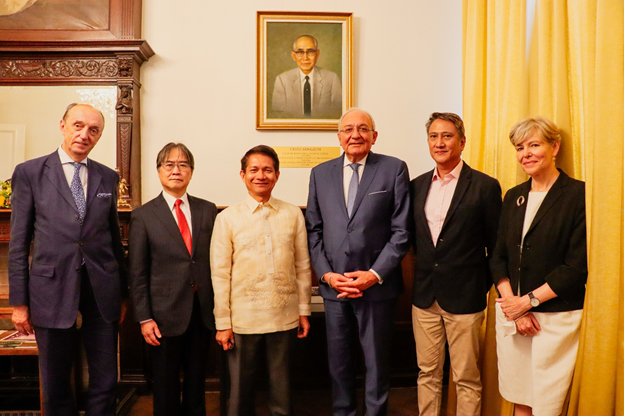 With ICJ Vice President Kirill Gevorgian, three other Judges of the ICJ, namely (L-R) Judge Peter Tomka, Judge Iwasawa Yuji and Judge Hilary Charlesworth, and Atty. Anthony Bengzon, grandson of ICJ Judge Cesar Bengzon during the inauguration of the ICJ Judge Cesar Bengzon Hall.
With over three decades of experience in public service, what could you impart us about your career path towards reaching where you are today?
Three tips perhaps: first, continually study and make learning life-long; second, continually strive throughout one's career and hopefully peak at the right time; and third, continually strive to be relevant in what one does.