By: Imee Su Martinez, Ph.D.
The Pacific Northwest National Laboratory (PNNL) in partnership with UP System CBRNE Center for Excellence Focus Group and support from the US Department of State Chemical Security Program conducted a workshop, "Strengthening Chemical Threat Agent Analysis and Source Attribution Capabilities in the Philippines", from 8-11 November 2022 at the Sheraton Manila. Participants included UP System faculty members and local partners such as the Philippines Institute of Pure and Applied Chemistry (PIPAC), Department of Science and Technology (DOST) and Philippine National Police (PNP). The PNNL experts who visited Manila included Dr. Jonathan Forman–PNNL Science and Technology Advisor and former Organisation for the Prohibition of Chemical Weapons Science Policy Adviser and Secretary to the OPCW Scientific Advisory Board (SAB), who was accompanied by Dr. Michael Jones– Program Advisor, Office of Cooperative Threat Reduction, US Department of State.
The UP System CBRNE Center for Excellence Focus Group started in March 2019 with the support of the EU CBRNE Center of Excellence (CoE) and UP Office of the President. The focus group is currently chaired by Dr. Irma Makalinao who is a Professor of Toxicology, UP Manila, UP College of Medicine's Coordinator for CBRN Health Security, Technical Advisor of the National Focal Point in the Philippines for the EU CBRN CoE in Southeast Asia, and member of the CBRN National Team. The designated co-chair is Dr. Emily Castriciones who is an Associate Professor of Chemistry, UP Diliman, former OPCW Inspector and On-site Assistance Technical Expert for the EU CBRN CoE Regional Secretariat for Southeast Asia. The development of the CBRNE initiatives is under the guidance of Prof. Roli Talampas–Program Development Associate of the Office of the President with Dr. Imee Su Martinez–Professor of Chemistry, UP Diliman, OIL Director/AVP Internationalization and OPCW SAB Member, serving as the interim secretariat of the group. The UP CBRNE initiative envisions a center for excellence in UP focused on threat reduction and resilience with the intention of collaborating with various local and international stakeholders from the government, private sector, and academia. Activities will involve program and course development, workshops, and trainings, as well as research pertaining to CBRNE.
Visiting experts Dr. Christopher Timperley, OBE–Principal Advisor on Arms Control and Non-Proliferation at the UK Defence Science and Technology Laboratory and former OPCW SAB Chairperson, Ashley Bradley–PNNL Biomedical Scientist, Raúl Aranzazú–PNNL Chemist, and Dr. Flerida Cariño–InterAcademy Partnership (IaP) Biosafety Expert, retired Professor of Chemistry, UP Diliman, and former OPCW SAB member, graced the event. The workshop also benefited from distinguished speakers from the Philippines that included Dr. Maria Corazon de Ungria–Head of the DNA Analysis Laboratory, Natural Sciences Research Institute, UP Diliman, Dr. Arturo Lluisma–Professor, Marine Science Institute, UP Diliman, Dr. Hiyas Junio–Head of Mass Spectrometry Facility, Associate Professor of Chemistry (Organic), and Director of the Research Management Office, UP Diliman, Dr. Marlon Conato–Professor of Chemistry (Inorganic), UP Diliman, Dr. Johnrob Bantang–Director Computer Science Research Center and Associate Professor of Physics (Complex Systems), UP Diliman, Dr. Armand Guidote-PIPAC Director and Professor of Chemistry, Ateneo de Manila University, and PCapt. Rizza Gale Abucay, PNP Forensic Chemist.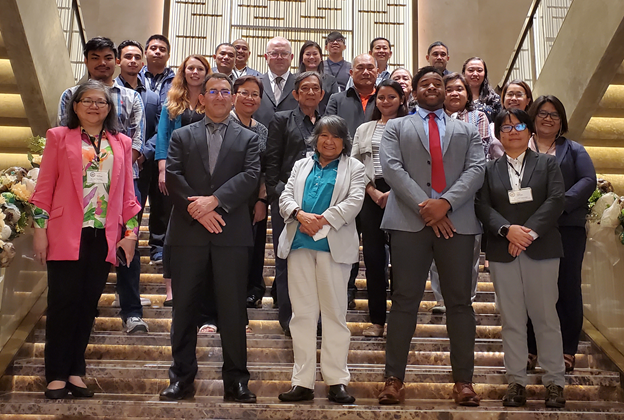 Participants and speakers. Front row from left: Dr. Makalinao (UPM Prof, UP CBRNE FG Chair), Dr. Forman (PNNL S&T Advisor), Dr. Cariño (IaP Biosafety Expert), Dr. Jones (US State Dept Prog. Advisor), Dr. Castriciones (UPD Prof, UP CBRNE FG Vice Chair) Second row from left: Mr. Lee (UPD Grad Student), Dr. Migo (UPLB Prof), Prof. Talampas (UP OP PDA), Ms. Daniega (DOST R&D Manager), Dr. de Cadiz (UP Min Prof), Dr. Junio (UPD Prof), Dr. Yabes (UPM Prof). Third row from left: Dr. Aranzazú (PNNL Chemist), Dr. Bradley (PNNL Biomedical Scientist), Dr. Timperley (UK DSTL Principal Advisor), Gen. Embang (BFD Former Director, Racing Commissioner), Dr. Tobias-Altura (UPM Prof), PCapt. Abucay (PNP Forensic Chemist). Last row: Mr. Olpot (DOST Project Manager), Dr. Bantang (UPD Prof), Dr. Nellas (UPD Prof), Dr. Martinez (UPD Prof), Dr. delos Santos (UPD-Pampanga Prof), Dr, Guidote (PIPAC Director, ADMU Prof), Dr. Conato (UPD Prof).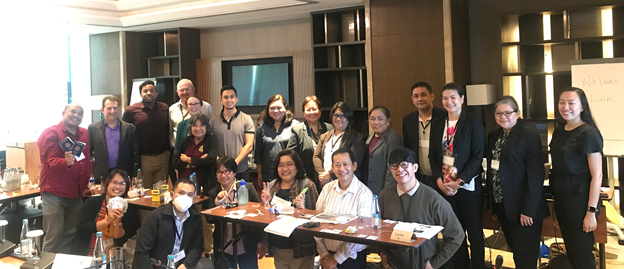 Clandestine Laboratory Table-Top Exercises for Participants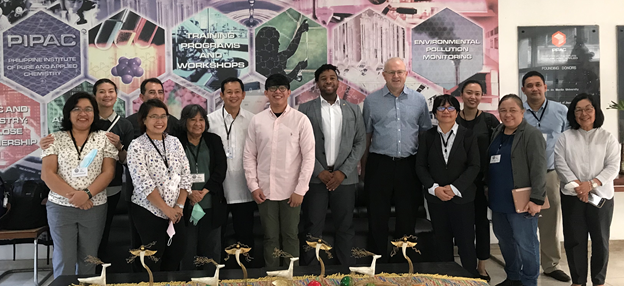 PIPAC Tour for Participants and Speakers