by Ivan Monasterial
To bridge Taiwan's semiconductor industry with international talent, the Ministry of Economic Affairs' Industrial Development Bureau has initiated the Taiwan Semiconductor Talents Exchange Activity project. This project aims to facilitate interaction between Taiwan's semiconductor corporations, universities, and exceptional talents.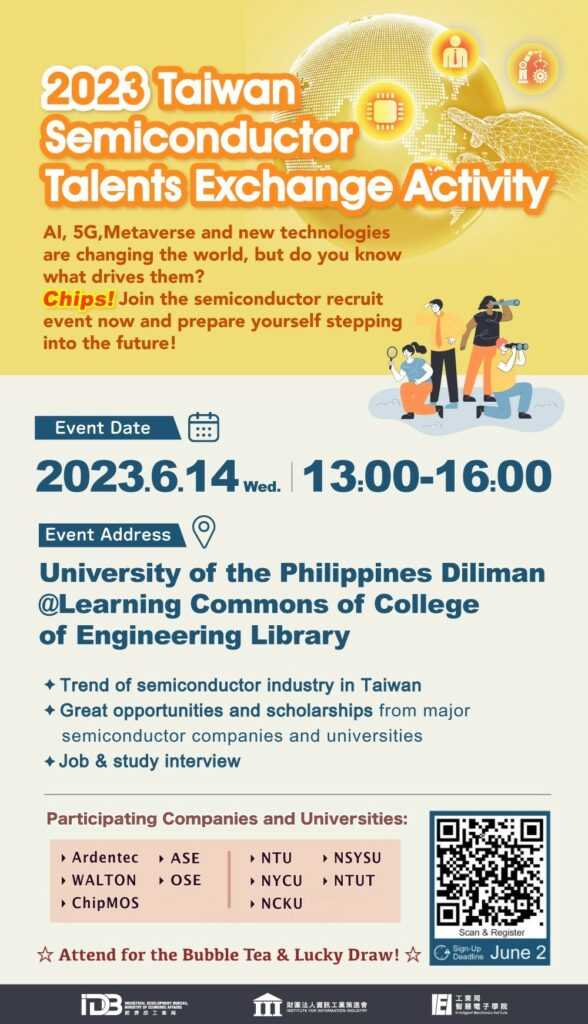 On June 14th, a significant step will be taken as Taiwan's semiconductor corporations and universities gather at the UPD campus for an engaging event. Participants will have the opportunity to meet face-to-face with world-leading semiconductor corporations and top universities. Additionally, they will gain insights into Taiwan's international talent recruitment mechanism and industry during the event.
The event will take place at the UPD Learning Commons of College of Engineering Library from 13:00 to 16:00. Attendees will have the chance to interact with Taiwan's semiconductor companies and universities onsite. It is an excellent opportunity to learn more about the industry and make valuable connections. Don't miss out on the lucky draw, which will also be held during the event!
If you're interested in attending, please follow these steps to secure your spot:
Sign up for the Talents Exchange Activity on June 14th via this link: https://www.iei.org.tw/iei_talent/public/en/iei_talent_Reg

Visit the provided website to explore the available job positions.

Sign up and submit your resume before June 2nd to increase your chances of securing an interview opportunity.

The event primarily targets talents specializing in Electronic Engineering, Electrical Engineering, Communication Engineering, Computer Science & Information Engineering, or related majors. Whether you're a recent graduate or an experienced professional, this event offers a platform to engage with industry leaders and discover potential career opportunities.

For concerns and inquiries, email us at [email protected]