By Ivan Kurt M. Monasterial
The University of the Philippines Office of International Linkages (UP OIL) is thrilled to announce the arrival of its newest team member, Adobo! Adobo is a charming furry friend who has joined us to help reduce stress and increase productivity in our workplace. We couldn't be more excited to have her as part of our internationalization efforts.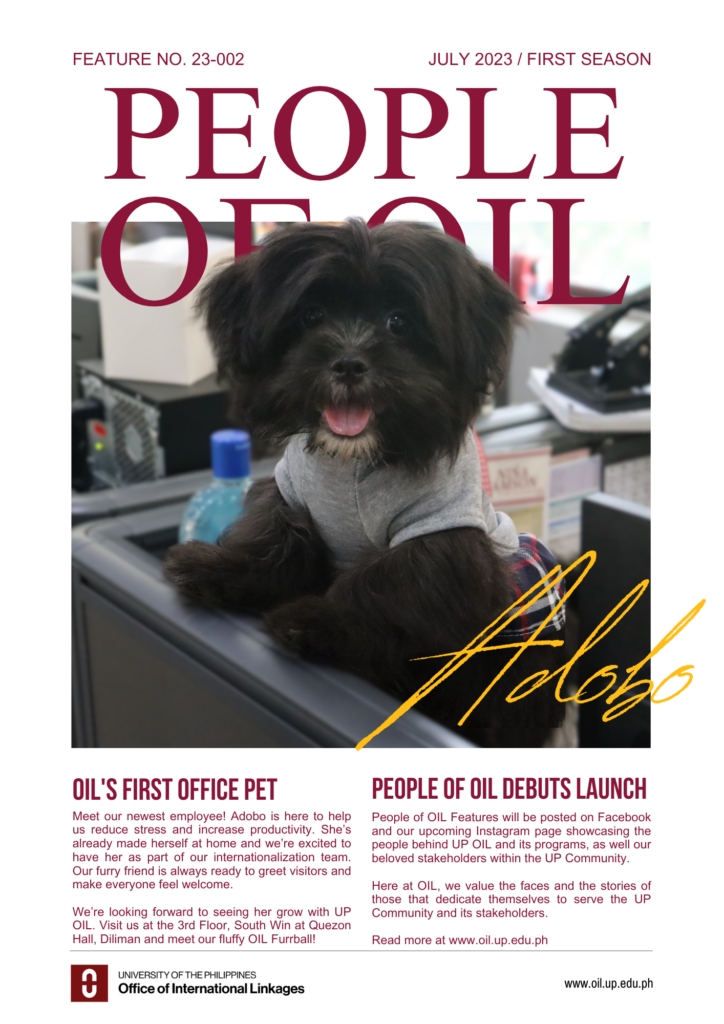 Adobo has quickly made herself at home in UP OIL. With her friendly and welcoming demeanor, she is always ready to greet visitors and make everyone feel at ease. We believe that her presence will create a positive and relaxed atmosphere, allowing us to work more efficiently and foster a warm environment for everyone involved.
As a fluffy OIL Furrball, Adobo will be stationed at the 3rd Floor, South Wing of Quezon Hall, UP Diliman. We invite you to visit our office and meet Adobo in person.
In addition to introducing Adobo, UP OIL is excited to launch a new initiative called "People of OIL." Through this project, we aim to recognize and showcase the crucial role of the dedicated individuals behind UP OIL and its various programs, as well as our beloved stakeholders within the UP Community.
Through our social media platforms, we will be featuring the inspiring stories of faculty members, staff, students and partners, highlighting each person's unique experiences and perspectives. By sharing their stories, we hope to foster a sense of community with members of the UP stakeholders.

To stay updated with the latest news and features from UP OIL and the People of OIL project, we invite you to visit our official website at www.oil.up.edu.ph. Follow us on Facebook and keep an eye out for our upcoming Instagram page, where you can engage with us and be part of our vibrant community.
UP OIL is committed to nurturing a diverse and inclusive environment, where the exchange of ideas, cultures, and knowledge thrives. With the addition of Adobo and the People of OIL project, we are taking yet another step towards strengthening our ties with the UP Community and our global partners. We look forward to the growth and success of both Adobo and our internationalization endeavors, and we hope to see you soon at UP OIL's office to meet our adorable furry team member!