The University of the Philippines (UP) successfully hosted the first virtual APRU Undergraduate Leaders' Program 2021 with the theme, "Sahaya: Science and Arts, Harnessing the Youth's Advocacies" from 18 – 29 October 2021.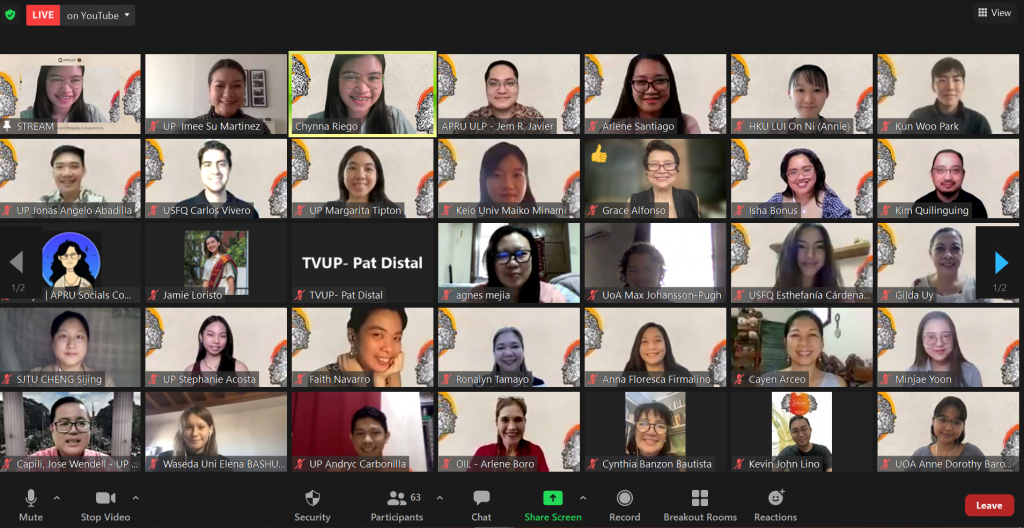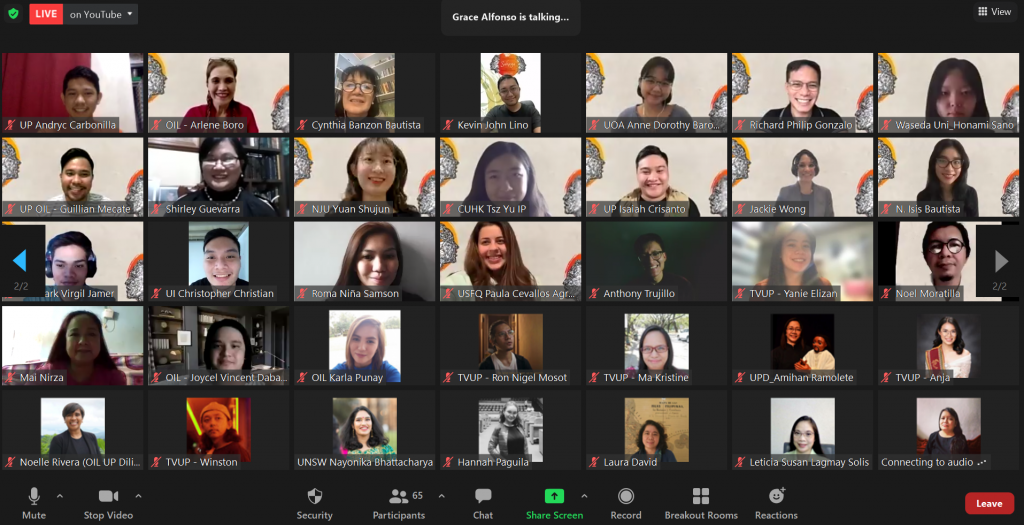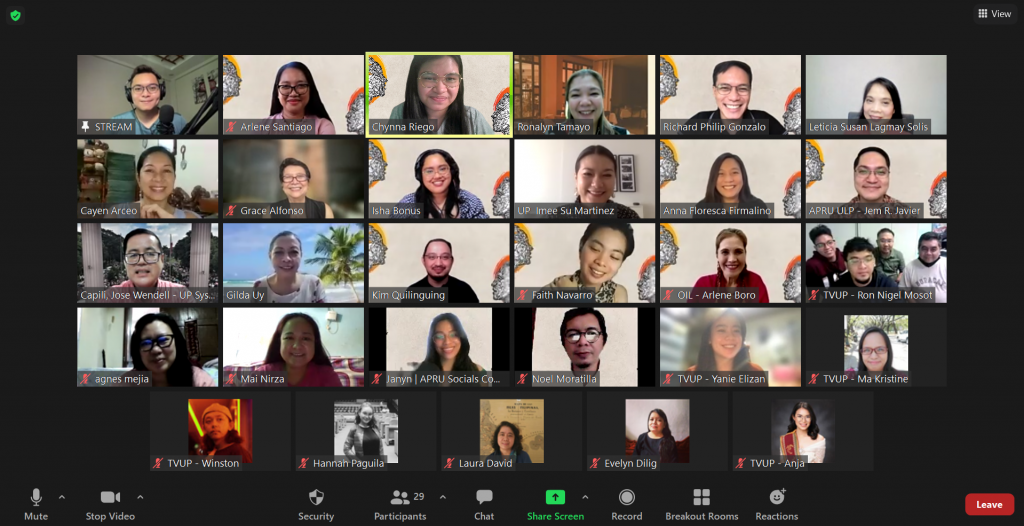 A total of 29 undergraduate students from 13 participating universities located in the Asia and the Pacific participated in the 12-day program.
The Opening Ceremony was graced with Hon. Loren Legarda, 3-term Senator, Deputy Speaker, and Representative, Lone District of Antique and Dr. Howarth Bouis, Director of HarvestPlus (2003 – 2016) as the keynote speakers along with UP Officials, President Danilo Concepcion, and Vice President for Academic Affairs Maria Cynthia Rose Banzon Bautista and APRU Secretary General, Dr. Christopher Tremewan.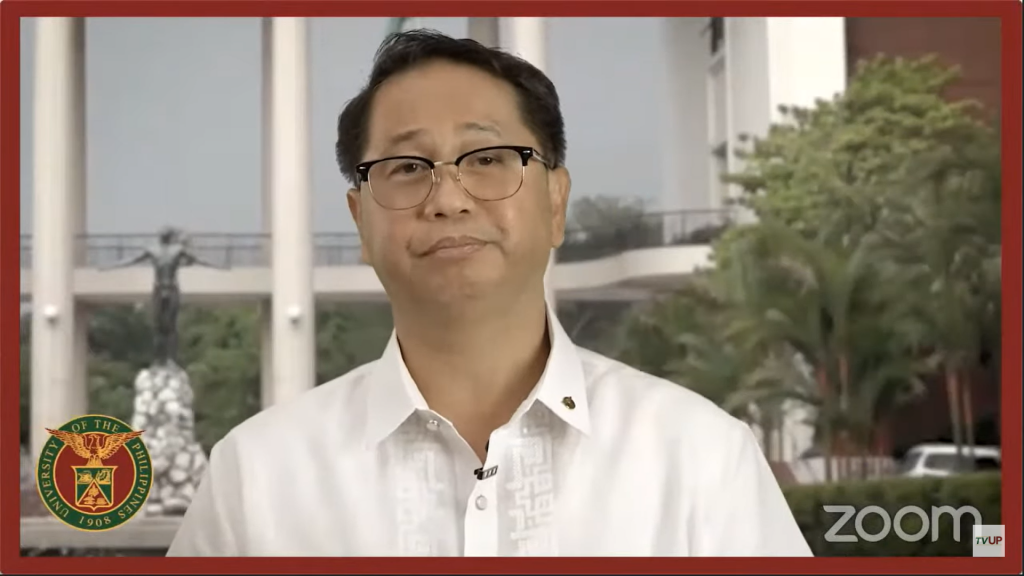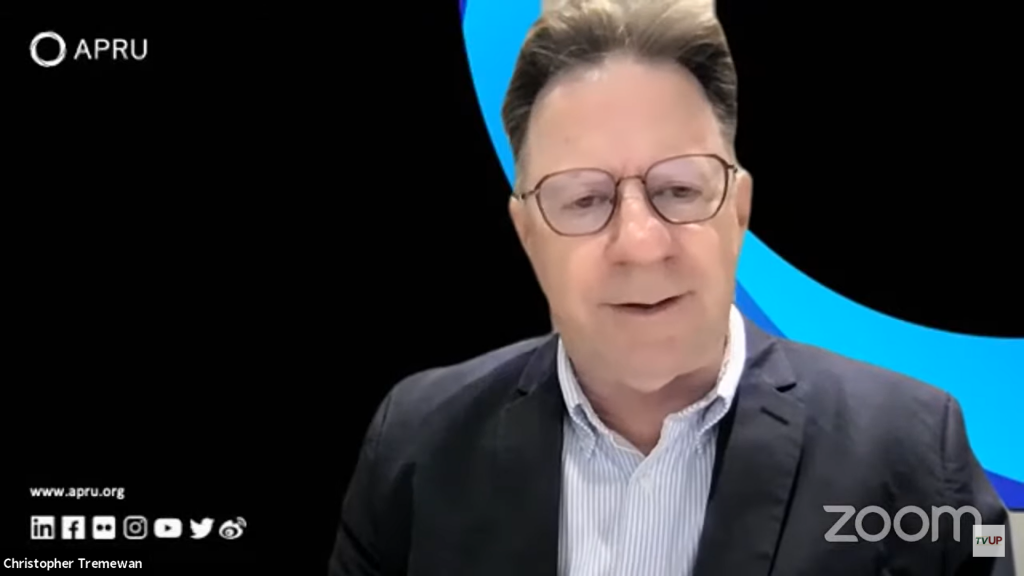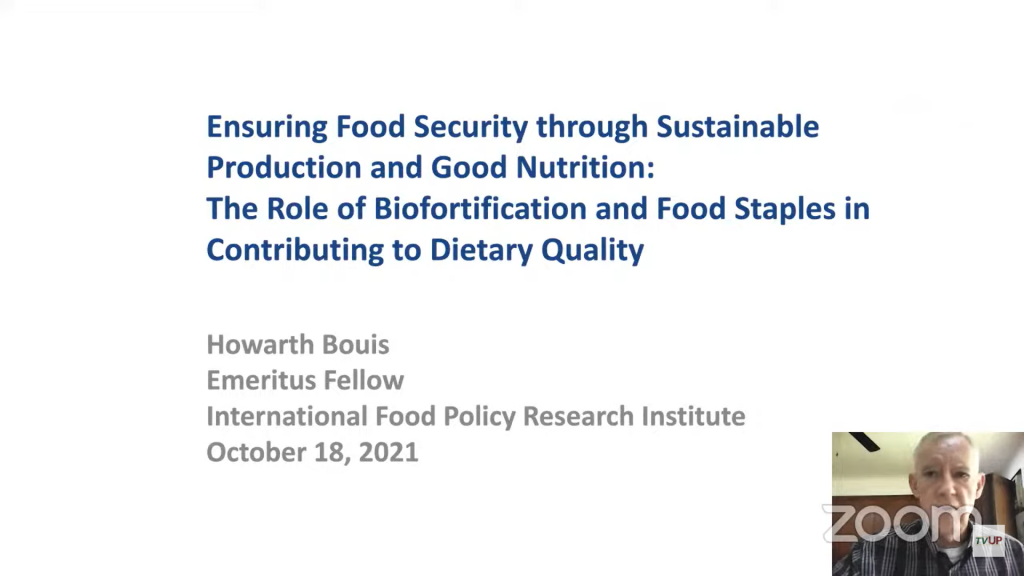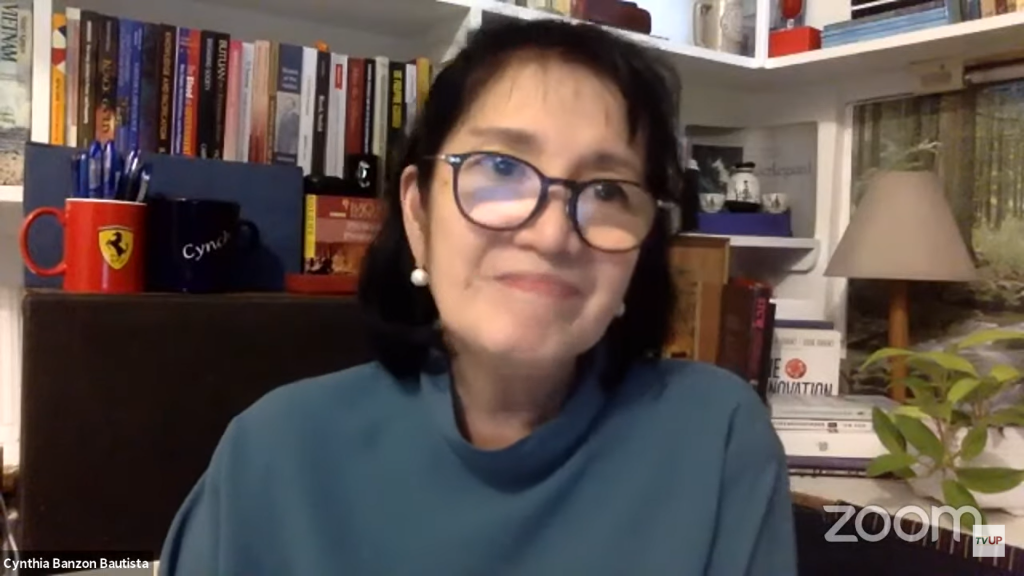 The UP Concert Chorus also gave a heartwarming performance of "I'll Be There" and at the end of the program, participants were able to have a glimpse of the University of the Philippines and its constituent units through a virtual campus tour.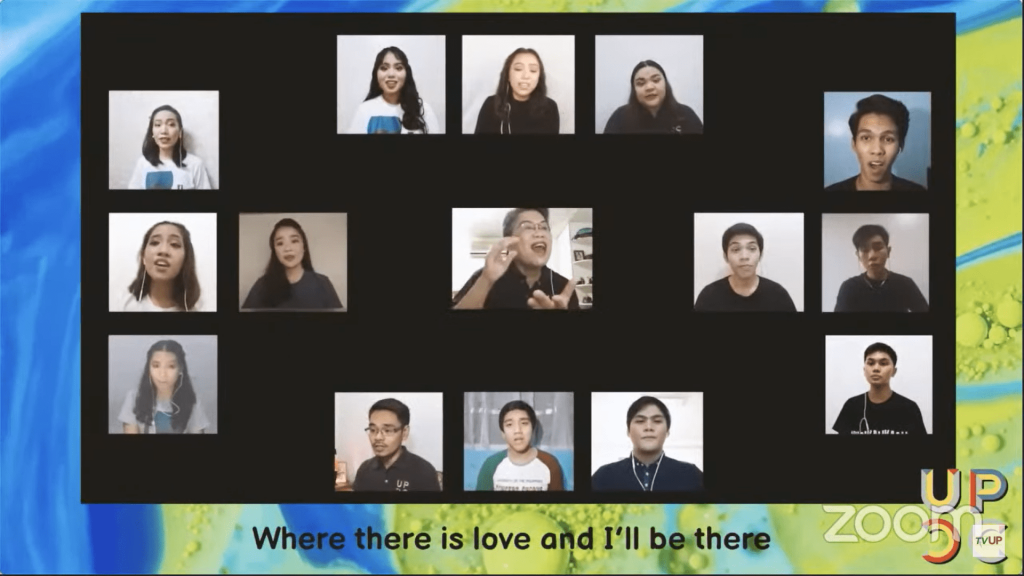 For the succeeding days, different academic units of the university facilitated workshops and activities with topics on Digital Literacy and Critical Digital Literacy, Producing Vlogs, Holistic Habitation, Flourishing Life through Creativity and the Arts, Ensuring Food Security through Sustainable Production and Good Nutrition, Role of Biodiversity in Resilient Development, and Policy and Governance.
Aside from the insightful workshops, a Global Cultural Activity entitled Sahaya Saya! was also held wherein the participants were able to showcase their own culture and interesting facts about their home country.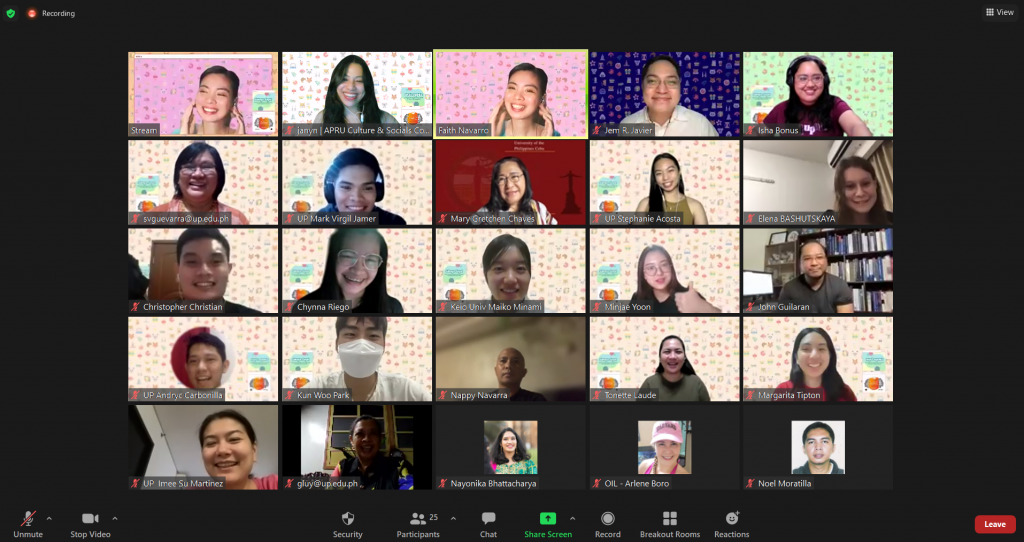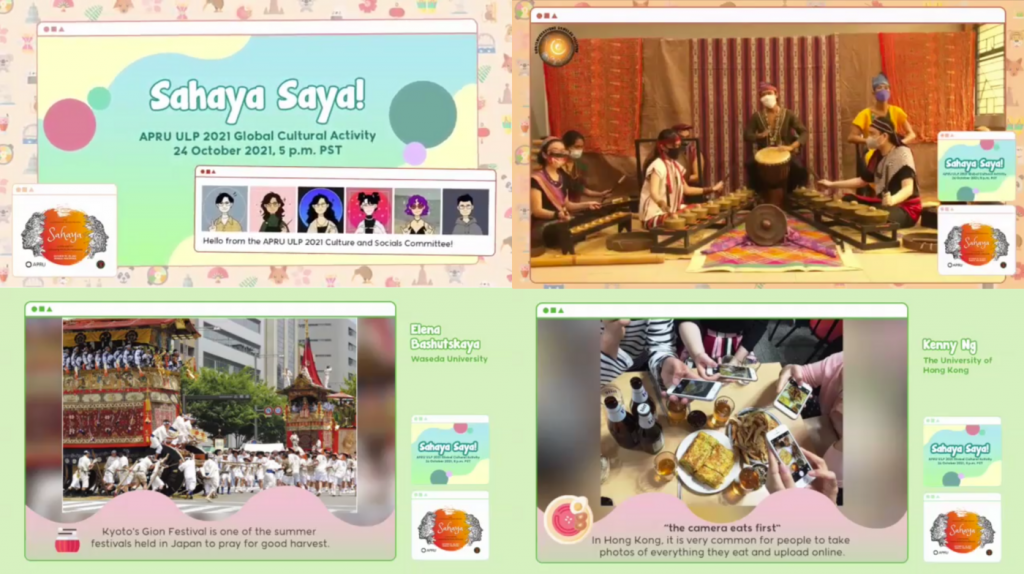 The participants were grouped into four as they create their vlog as an output for the program. Workshops on production including pre- and post-production were facilitated by TVUP and they have assisted the participants in finalizing their respective outputs. A panel was also invited to provide comments and suggestions on the vlog concepts of the participants.
During the closing ceremony, participants were able to witness performances highlighting the Philippine Culture from the UP Concert Chorus for their rendition of "Kruhay", "Hamon ng Kasalukuyan" by Kontra-GaPi, and a special performance by Asst. Prof. Eman Jamisolamin of the College of Music of the University of the Philippines Diliman. Aside from these performances, the vlogs made by the participants were also presented.
As the last day of the program, Mr. Jonas Angelo Abadilla of the University of the Philippines Diliman and Mr. Kun Woo Park of Korea University delivered the response on behalf of the participants of Sahaya 2021.

Sahaya 2021 was then formally closed with a message from Dr. Grace Javier Alfonso, Executive Director of TVUP and the Chair of the Local Organizing Committee along with a highlights video that wrapped up all the workshops and activities for the past 12 days.
The APRU ULP 2021 Sahaya will not be possible without the support of the Association of Pacific Rim Universities (APRU), the APRU ULP 2021 Local Organizing Committee, TVUP, and the UP Office of International Linkages.
To view more information about the program and to watch replays of the sessions, you may visit https://apru-ulp.org/.