By: Kenneth Eser Jose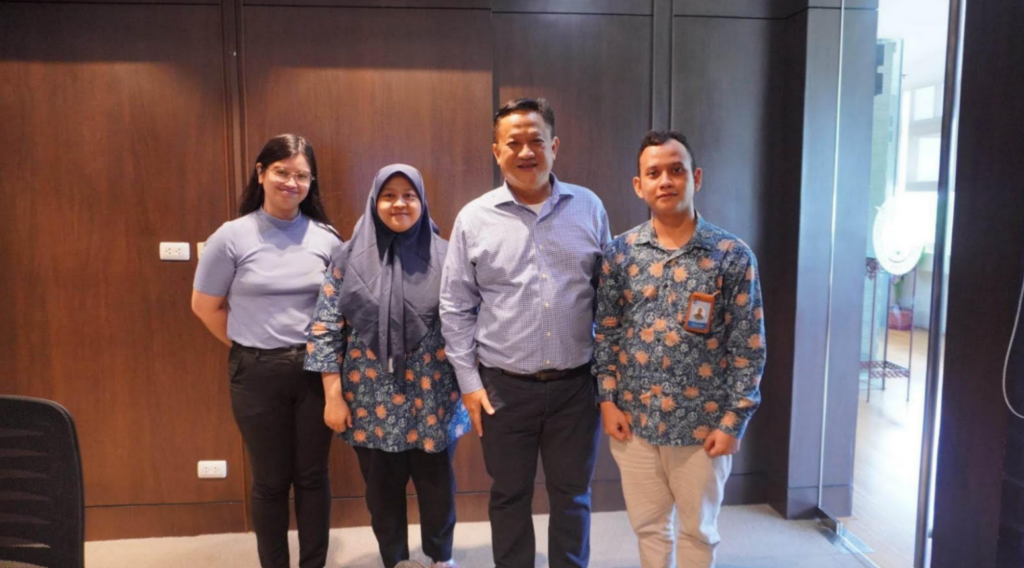 Introductory meeting with UP OIL Executive Assistant Ms. Chynna Louise Riego, ITS Laboratory Technician Ms. Firli Rahmawati, UP President Angelo Jimenez, and ITS Protocol and Public Relations Officer Mr. Pratino Aditya Tama
In an ardent effort to be at the forefront of public service in local and global communities, UP Office of International Linkages (OIL) hosted a staff mobility with a delegate from the Institut Teknologi Sepuluh Nopember (ITS) on 1 June 2023 at UP Quezon Hall.
Protocol and Public Relations Officer Mr. Pratino Aditya Tama was among the ITS delegation who visited the UP Diliman Campus from 30 May until 2 June 2023 in a benchmarking endeavor of going to different units according to their respective work experience and expertise. This activity was made possible in collaboration with UP Diliman OIL.
For UP OIL Executive Assistant Ms. Chynna Louise Riego's agenda, it was a business-as-usual routine in preparations for the courtesy visit of the Chilean Ambassador; except, that day turned out to be more enriching as Mr. Tama shadowed her for the whole day as she carried out her duties.

Mr. Tama with UP VP for Public Affairs Dr. Jose Wendell Capili and UP AVP for Internationalization Dr. Imee Su Martinez (L) and with the UP OIL staff (R) at Quezon Hall
The benchmarking began in the morning with an introductory meeting and discussion between UP and ITS. This was followed by the courtesy visit of the Chilean Ambassador – a personal highlight for Mr. Tama himself for having met His Excellency alongside UP President Angelo Jimenez and other UP executive officials.
Mr. Tama ended his visit with a warm engagement with the members of the UP OIL team.
A mutually beneficial sharing of best institutional practices, the staff mobility allowed both universities to evaluate, collaborate, and innovate – all in the pursuit of better service to their respective constituents and stakeholders.
Towards the end of the activity, Mr. Tama expressed his gratitude to UP OIL, citing his productive experience in observing firsthand the order of business of a fellow ASEAN university's international relations office (IRO). In return, an invitation to UP was also extended by Mr. Tama to visit the ITS in Surabaya, Indonesia.
As of writing, the ITS and UP Diliman are in the process of renewing agreements on student exchange.