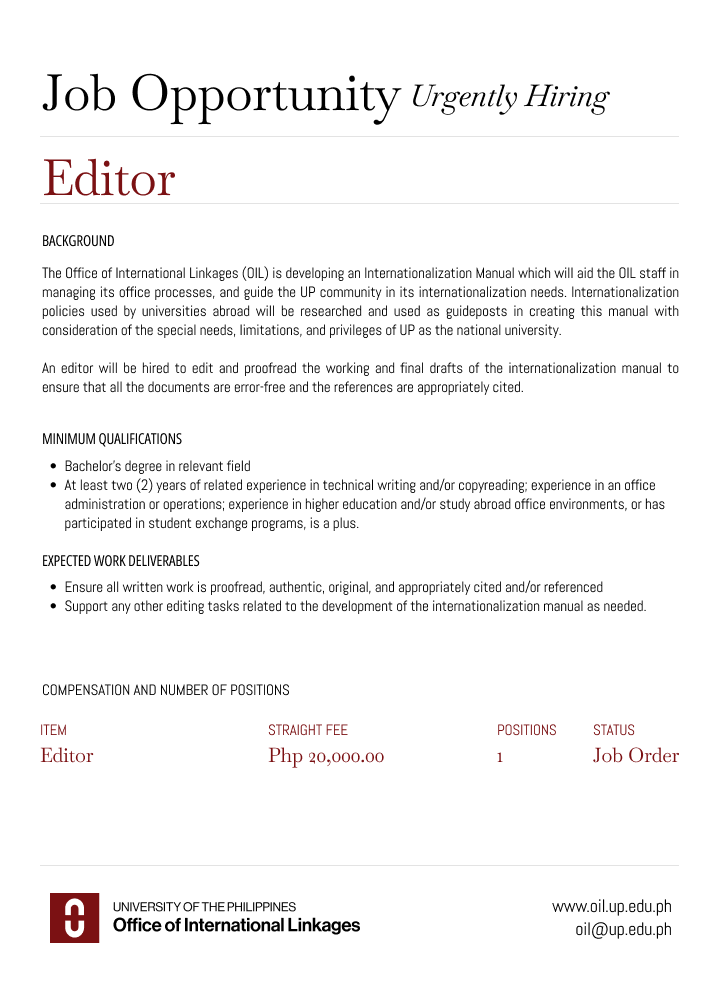 The Office of International Linkages (OIL) is developing an Internationalization Manual which will aid the OIL staff in managing its office processes, and guide the UP community in its internationalization needs. Internationalization policies used by universities abroad will be researched and used as guideposts in creating this manual with consideration of the special needs, limitations, and privileges of UP as the national university.

An editor will be hired to edit and proofread the working and final drafts of the internationalization manual to ensure that all the documents are error-free and the references are appropriately cited.
MINIMUM QUALIFICATIONS
Bachelor's degree in relevant field
At least two (2) years of related experience in technical writing and/or copyreading; experience in an office administration or operations; experience in higher education and/or study abroad office environments, or has participated in student exchange programs, is a plus.
EXPECTED WORK DELIVERABLES
Ensure all written work is proofread, authentic, original, and appropriately cited and/or referenced
Support any other editing tasks related to the development of the internationalization manual as needed.

COMPENSATION AND NUMBER OF POSITIONS
| | | | |
| --- | --- | --- | --- |
| Item | Straight Fee | Position | Status |
| Editor | Php 20,000.00 | 1 | Job Order |

Interested applicants may submit their letter of application, resume, transcript of records, certificate of employment, certificate of training/s and other documents to the Director of OIL.

SUBMIT THE REQUIREMENTS TO:

Imee Su Martinez, Ph.D.
Assistant Vice President for Academic Affairs
Director, Office of International Linkages

DEADLINE OF APPLICATIONS
Thursday, 30 June 2022
Late submission shall not be accepted. Interviews will be held online.

CONTACT DETAILS
University of the Philippines
Office of International Linkages

3F South Wing, Quezon Hall,
UP Campus, Diliman, Quezon City

[email protected]
(632) 8981-8500 loc 2509, 2543, 2544